Significant dates
1867: Born on July 15 in Neuilly-sur-Seine, a suburb of Paris.
1876-1885: Studies natural sciences in Alsace.
1888: Armed service for the Chasseurs Alpins (Alpine Hunters).
1891: Begins studying medicine.
1892: Begins working as a doctor at St. Peter's Hospital. Receives the vessel Courlis as a gift from his father
1893: Courlis replaced by Pourquoi-Pas, built in Bordeaux.  Jean-Baptiste Charcot's father dies. Continues working as a doctor at St. Peter's Hospital.
1895: Completes medical training and officially becomes a medical doctor.  First child, Marie-Louise (Marion), born.
1896: Marries Jeanne Hugo, the granddaughter of Victor Hugo. Buys a wooden schooner, renaming it Pourquoi-Pas? II.
1897: Sells the wooden schooner to buy an iron schooner which he renames Pourquoi-Pas? III. Quits work at St. Peter's Hospital to begin working at the Pasteur Institute.
1898: Sails up the Nile River.
1899: Buys back the Pourquoi-Pas? II. His mother dies.
1900: Circumnavigates Ireland, getting caught in extremely bad weather.
1901: First scientific expedition mounted to the Shetland Islands, the Hebrides, and the Faroes aboard the Pourquoi-Pas? III. Publishes the first textbook in navigation intended for laymen which becomes the primary resource for sailing enthusiasts at least until WWII.
Sells Pourquoi-Pas? II and buy the iron schooner Rose Marine. The Naval Ministry hires him to investigate Faroese whaling near Jan Mayen.
1903: Français, Charcot's first polar exploration ship, is launched in Saint-Malo.  He chooses not to name this ship Pourquoi-Pas because of nationalist sentiment and because the Belgians had recently launched the research ship Belgica.
1903-1905: Charcot and his crew sail to Antarctica, which is the first French expedition there since Dumont d'Urville's expedition in 1837-1840.
1905: Français is too damaged by her stay in the Southern Ocean to sail across the Atlantic. The Argentine government buys her and the explorers return home onboard the passenger ship Algérie.  Charcot divorces Jeanne Hugo.
1907: Marries Marguerite "Meg" Cléry. She was a painter and illustrator who accompanied him on some of his voyages and showed him constant support. At the end of the year their daughter, Monique, is born.
1908: Pourquoi-Pas? IV, most widely known of the ships in that line, is launched on May 18 in Saint-Malo, Brittany.
1910: Charcot's second Antarctic expedition. The Pourquoi-Pas is considered the best-equipped scientific research vessel of its time. When they return, she is used as an oceanographic research laboratory by the Natural History Museum of Paris, under the auspices of Charcot.
1911: Charcot's second daughter, Martine, is born.
1913: Charcot is elected president of the French Yacht Club, which office he held for 23 years.
1914: Pourquoi-Pas? is on an annual research cruise when WWI breaks out and is called to port in Cherbourg. Charcot is inducted into the military as a doctor.
1915: British Naval Command has Charcot captain a ship whose role is to lure enemy submarines in close enough to destroy them. He calls the ship Meg.
1916 – 1918: Provided ideas for the design of three anti-submarine ships. Pourquoi-Pas? loaned to the Lorient sailing school. When the war ends, Pourquoi-Pas? is returned in mint condition. The Ministry of Education and the French Naval Command decide to launch the ship with military honor every year.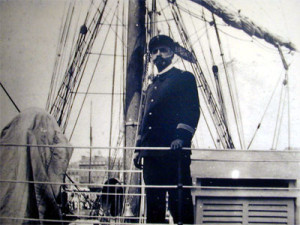 1919: Charcot is promoted to the position of Lieutenant Commander in the Naval Reserve.
1920: Promoted to Commander. Pourquois-Pas? returns to research expeditions with annual cruises from Saint-Malo, through the English Channel to the Mediterranean Sea and other northern seas until 1925.
1921: Charcot succeeds in taking sonar measurements of the Rockall Trough in the Atlantic, which completely change our understanding of the feature. Joins the Naval Academy.
1923: Promoted to Captain in the French Navy.
1925: Expedition to Jan Mayen and East Greenland (Scoresby Sund).
1926: Elected to the Scientific Academy. Chosen to lead an expedition to Jamesland, the north coast of the Scoresby Sund. Due to his age, he is no longer ship's captain and receives the title expedition leader from the Navy. He becomes vice president of the French Geological Society.
1927: His oldest daughter, Marie-Louise (Marion), dies.
1928: Participates in the search for Commander René Guilbaud (1890-1928) and Norwegian expedition leader Roald Amundsen (1872-1928) who were searching for the Italian General Umbergo Nobile (1885-1978), a passenger on the airship Italia in May, 1928.
1930: Accepted into the French Medical Academy.
1931: Pourquoi-Pas? prepares to host a French Arctic expedition to Rosenvinge (in Scroesby Sund, Greenland).
1934: In August, Pourquoi-Pas? sets sail with an anthropology expedition from Trocadéro in Paris to East Greenland. Charcot is given an Order of Merit.
1935: Anthropological expedition returns to the Trocadéro after fourteen months in Ammassalik. Charcot's daughter Monique is married in Saint-Servan.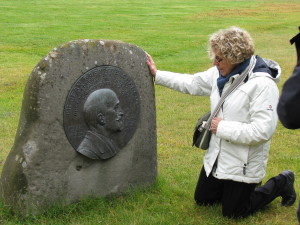 1936: Charcot receives news of the birth of his granddaughter Anne-Marie in Chambéry, but never sees her. On the morning of September 16 the Pourquois-Pas? sinks off Álftanes á Mýrum, claiming the lives of all onboard except one.