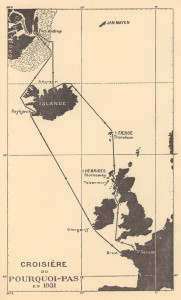 Iceland is mentioned repeatedly in Serge Kahn's 2006 book Jean-Baptiste Charcot – Explorer of the Seas, Navigator of The Poles. For instance, Charcot is mentioned in the passage:
"Upon his first journey to Iceland, Charcot was enamored of this land of brightness. White glaciers, blue mountains, green pastures, brown craters, black sands, and clear hot springs, all of which are constantly in motion because of the interplay of opposing forces. The ambient light maintains the daily rhythm in this lavish and creative nature."
Charcot felt at home on Iceland and had many Icelandic acquaintances. He returned many times between 1902 and 1936, especially after the end of World War I in 1918. His first arrival on Iceland was made during his first summer expedition to northern locations in the Faroes, Jan Mayen, and Iceland. His last arrival in Iceland would be made 34 years later, a period of almost half of his life and the majority of his professional career.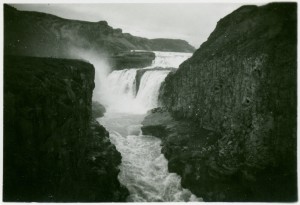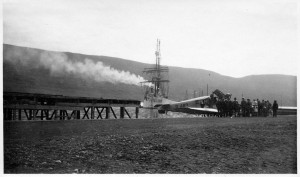 According to the aforementioned book, Charcot and his crew visited Iceland on 14 occasions, mainly in Reykjavík and Akureyri, though records show they tied up at Icelandic ports 40 times in various locations. Most often, their stops in Iceland were short and served to resupply the ship but also to take a brief rest and meet people. Sometimes they made longer stops that allowed for some inland tourism, for instance in Eyjaförður, Þingvellir, Gullfoss, and the hot springs in Haukdalur.
The French had a strong presence in Iceland at this time and the French Alliance was founded in Reykjavík in 1911, the same year as the founding of the University of Iceland. Charcot felt it important that he show support for this Alliance and whenever he had the chance, he provided lectures and presentations on various subjects, much to the pleasure of French residents of Iceland and Icelandic Francophiles. His lectures were cultural events popular enough to be the subject of discussion in the newspapers of the day. In this way, Charcot's name became familiar to the Icelandic people and eventually he became a good friend to the small island nation.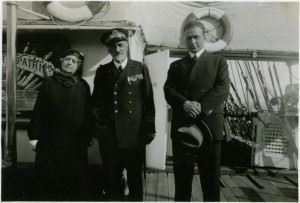 One of Charcot's closest friends in Iceland was Thora Friðriksson (1866–1958), one of the founders of the French Alliance in Reykjavík and the president of that organization from 1932–1936. Iceland's Surgeon General, Vilmundur Jónsson referred to her as "the last aristocrat" in his eulogy for her in 1958. She was an influential woman in Iceland who fought for women's rights, contributed much to the cultural life of Reykjavík, was a patron of the arts, and she encouraged cultural connections between France and Iceland. Friðriksson knew Charcot well, spent a lot of time in Paris in the early 20th century, where he introduced her to the inner circle of the Parisian cultural elites.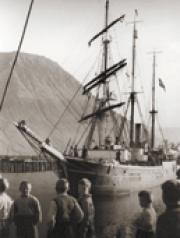 Each time the Pourqouis-Pas? sailed into a harbor was a major event among locals since the ships massive sails were far more impressive than those on Icelandic boats. Everyone knew that there sailed an explorer who had travelled to Antarctica and back, a cosmopolitan man bathed in the light of adventure, a polished French gentleman who came bearing experience of the entire world with him, but also a man who saw others as equals and greeted everyone with modesty and warmth.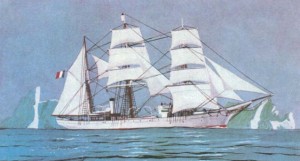 Icelanders, who have always been interested in the events of the wide world, saw Charcot as the embodiment of science and knowledge, research and adventure, and they thought of his ship as evidence of the adventures he had lived.